Dal portale Red-Gate è possibile scaricare gratuitamente, in formato PDF, l'eBook Performance Tuning with SQL Server Dynamic Management Views scritto da Louis Davidson (@drsql) e Tim Ford (@sqlagentman).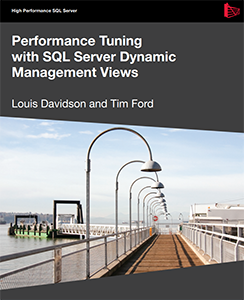 Le DMV (Dynamic Management Views and Functions) sono oggetti che pubblicano informazioni sullo stato di salute dell'istanza SQL Server. Permettono di monitorare il cuore del sistema, diagnosticare problemi e misurare le performance, rappresentano uno strumento utilissimo sia per i DBA che per gli sviluppatori di soluzioni database. Il libro spiega come accedere alle informazioni esposte dalle DMV più frequentemente utilizzate per fare troubleshooting sull'esecuzione delle query, sull'utilizzo degli indici, sulle operazioni di I/O, sulle attività eseguite da una determinata sessione e da una determinata transazione.
Questo libro non può assolutamente mancare nella vostra libreria digitale! La copia cartacea è ovviamente acquistabile anche su Amazon.
Buona lettura!