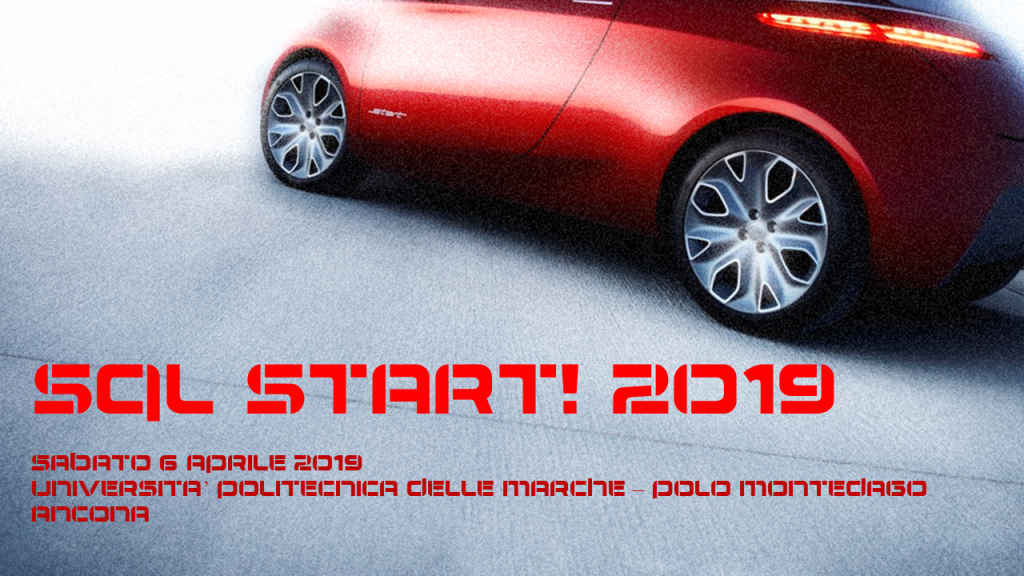 Che cos'è SQL Start!
SQL Start! 2019 è un evento formativo di una sola giornata, la cui partecipazione è completamente gratuita, focalizzato su Microsoft SQL Server e più in generale sulla Microsoft Data Platform.
L'evento si terrà all'Università Politecnica delle Marche (Facoltà di Ingegneria), Sabato 6 Aprile 2019. Partecipando incontrerai SQL Server MVPs, esperti del settore e colleghi del settore IT con i quali poter approfondire le conoscenze su SQL Server, acquisire le competenze per risolvere più in fretta i problemi, prevenire potenziali errori, migliorare le condizioni di lavoro con SQL Server aumentando la produttività e la confidenza nell'uso di questo prodotto, che è pur sempre il secondo RDBMS al mondo.
Se sei curioso di cosa puoi scoprire a SQL Start? Puoi trovare i video delle precedenti edizioni qui: http://vimeo.com/album/1747768
Agenda
Ecco l'agenda di SQL Start! 2019. Mancano ancora alcune sessioni, in via di definizione. A breve la versione definitiva.

Ricordiamo che chi vuole si può già iscrivere, gratuitamente, a questo link: https://www.eventbrite.it/e/biglietti-sql-start-2019-56165372140
Sala Azzurra
(DBA)
Sala Rossa
(BI & Analytics)
Sala Verde
(DEV)
09:00-10:00
Keynote
10:00-10:15


Coffee break
10:15-11:15
SQL Server 2019: the future of data and Big Data
Andrea Benedetti
Data Storytelling con Power BI
Lorenzo Vercellati
Migliorare la produttività lavorando su SQL Server
Alessandro Alpi
11:30-12:30
Gestione dei transaction log in SQL Server
Gilberto Zampatti
Il mio grosso, grasso progetto di Power BI
Francesco De Chirico
SQL Server Temporal Tables – viaggiare nel tempo con SQL Server
Pasquale Ceglie
12:30-13:30
Pranzo
13:30-14:30
Mettere in sicurezza ambienti SQL Server
Gianluca Hotz
Predictive Modeling with Azure Machine Studio
Luca Zavarella
SQL Server a tutto gas! – usare (e mantenere) gli indici
Danilo Dominici
14:45-15:45
SQL Server Execution Plans: From Zero to Hero
Sergio Govoni
TBD
TBD
16:00-17:00
Amministra le tue istanze SQL Server con Powershell
Marco Obinu
TBD
TBD
17:00-17:30
Chiusura lavori
Vi aspettiamo numerosi!!!