Le sessioni erogate durante l'evento 24 Hours of PASS edizione "Summit Preview", tenuto lo scorso 19 e 20 luglio 2017, sono state registrate e sono già disponibili per essere riguardate o viste per la prima volta nel caso non abbiate potuto seguire la diretta.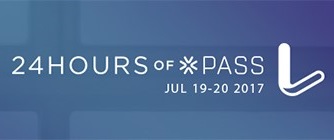 Ogni video è disponibile accedendo alla pagina della relativa sessione dopo aver effettuato l'accesso.. non siete ancora membri PASS, registratevi subito! E' gratuito!
Un grazie agli Sponsor (Quest, Melissa Global Intelligence e Nutanix) che hanno reso possibile l'organizzazione di questo evento, gratuito per i partecipanti!
Le sessioni registrate in questa edizione del 24 Hours of PASS permettono di assaporare gli argomenti principali del prossimo PASS Summit 2017 che si terrà a Seattle (WA) dal 31 ottobre al 03 novembre 2017!
Buona visione!